✈Shipping Information✈
Our goal is to provide safer and faster shipping options wherever you live.
The time frame for order delivery is divided into two parts: processing time and shipping time.
After the order is shipped, you will receive a confirmation email with a tracking link.
1. Processing time
Processing time: 2-5 days. (Legal holidays should be extended accordingly) Fulfilled: Mon – Fri
Order cutoff time: 11:00 PM (GMT-08:00) Pacific Standard Time.
We do not process on Sundays or holidays. Processing time is NOT included in the shipping time. Please plan accordingly.
2. Shipping Time
Standard Shipping:YUN Express
Express Shipping:DHL/USPS/Fedex
Other inaccessible areas:DHL/USPS/Fedex
Current delivery time in shipping country or region:
| | |
| --- | --- |
| Country/region | Reference aging |
| America | 4-7 Working Days |
| UK | 4-6 Working Days |
| France | 4-6 Working Days |
| Germany | 4-6 Working Days |
| Italy | 4-6 Working Days |
| Spain | 4-6 Working Days |
| Holland | 4-6 Working Days |
| Belgium | 4-6 Working Days |
| Austria | 4-6 Working Days |
| Sweden | 4-6 Working Days |
| Poland | 4-6 Working Days |
| Canada | 6-10 Working Days |
| Ireland | 4-6 Working Days |
| Greece | 6-10 Working Days |
| Bulgaria | 4-6 Working Days |
| Portugal | 4-6 Working Days |
| Hungary | 4-6 Working Days |
| Slovakia | 4-6 Working Days |
| Czech Republic | 4-6 Working Days |
| Romania | 4-6 Working Days |
| Finland | 4-6 Working Days |
| Denmark | 4-6 Working Days |
| Norse | 6-10 Working Days |
| Mexico | 8-12 Working Days |
| Turkey | 4-6 Working Days |
| New Zealand | 6-10 Working Days |
| Australia | 4-6 Working Days |
| Other | 5-11 Working Days |
Attention:
Although we try to ship your hair to you as fast as possible, please don't order hair less than 48 hours before you need it! It's always better to give yourself at least a 2 week cushion before you need it to avoid any unforeseen circumstances that may delay delivery.
Don't use the PO Box.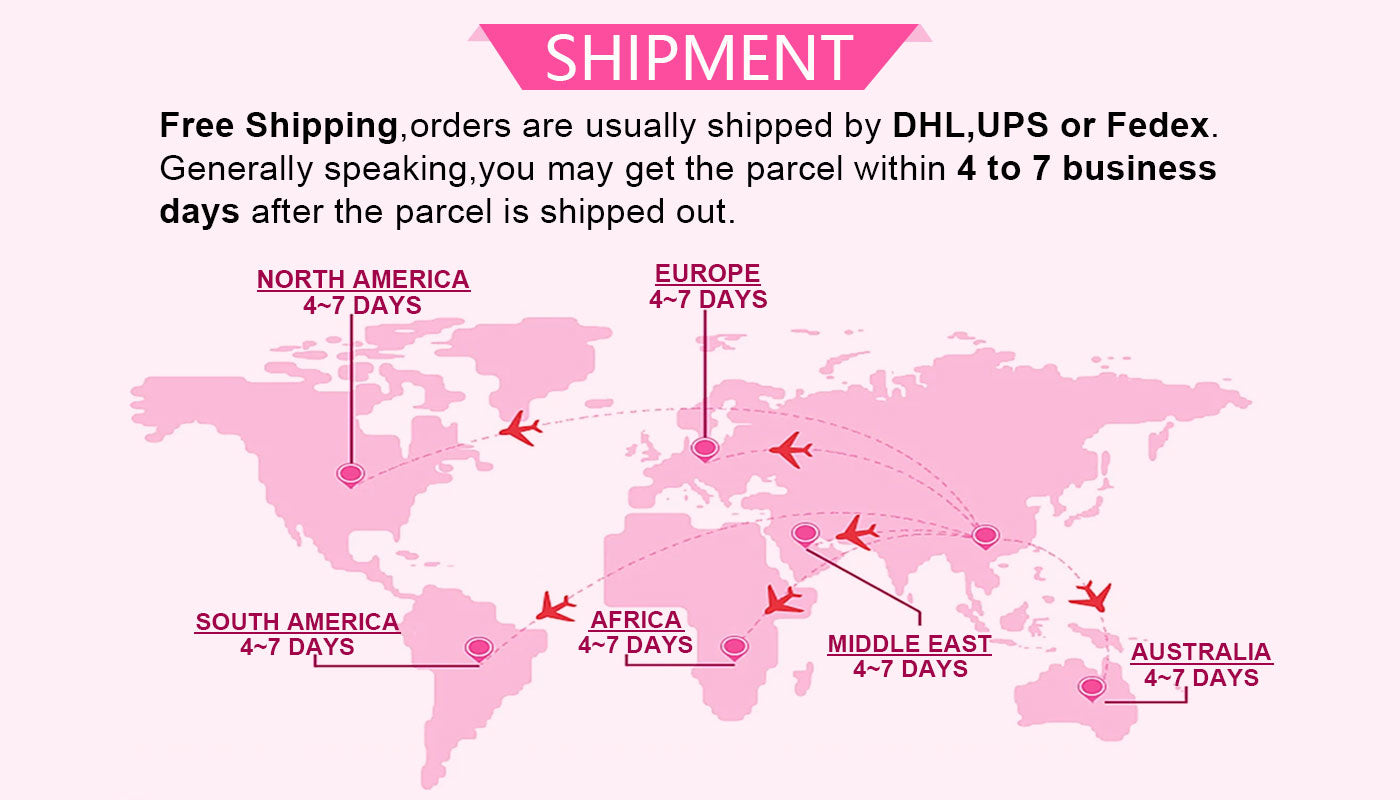 3.Shipping Fee
Standard Shipping:Orders over $89 will be shipped free, otherwise a $10 shipping fee will be required.
Express Shipping:Orders over $299 will be shipped free,Order between $89 and $299 a $10 shipping fee will be required.Order less $89 a $25 shipping fee will be required.
For rest of world, If the system displays no current address transportation mode, the order cannot be placed.
Please Noticed:
We don't process orders on Sunday, because shipping companies all do not work on Sunday.
Processing & shipping times may be extended during holidays.
4.About TAX
All our products do not include taxes.
a) AInternational orders may require import duties, duties and fees from the customs department of your country upon arrival. The recipient of the order is the importer of the record, responsible for all import costs and complying with all laws and regulations of the country of destination. CROWNWAY does not charge customs duties and taxes, nor does it provide any information on duties and taxes. Customs policies vary by country, and if you have any questions, please contact your local customs office for more information.
b) We are not responsible for customs fees and will not be refunded for customs fees. These government fees are not paid to CROWNWAY and are the sole responsibility of the recipient.
c) If you decide not to pay customs and/or customs duties and your package is returned to us, you will be charged a 10% restocking fee and the shipping fee will be deducted from your store credit card.
5.About order address issues
a) All customers are responsible for entering the correct information for the bill and shipping address of the order. Any address or order change request will be considered but not guaranteed (since the address is incorrect, the order will be returned to our warehouse and you will be responsible for the additional shipping charges. There will be no refund for abandoned or abandoned shipments.)
b) Because the order address is incorrectly filled in, if our team cancels your order is too late, you can return the order to us after receiving the order. For more information on how to return, please click on the return policy. The only thing we can do is wait for the parcel to return to us. When we are determined to return it to the warehouse, we can ship it to your correct address or return the order amount to you.
6.Parcel tracking
a) We will update your tracking number via email, with all our orders with verified tracking numbers and links. Tracking numbers can take several hours to update. If you have a problem with your tracking number or package delivery, please contact the courier directly before contacting us. Once the package leaves our shipping location, you will need to contact them to resolve some issues.
b) If you have previously encountered a lost or stolen package, we recommend that you send the package to your work address to ensure that you receive your package safely.
7.Precautions
a) Orders for weekends or holidays will be processed on the next business day.
b) Special instructions for mail delivery are not displayed on the shipping label or package. If you have specific instructions, please contact your post office or postal staff directly. We are not responsible for the delivery of errors.
c) We are not responsible for delivery delays due to weather, improper carrier operation, incomplete addresses, delays in delivery, customs delays, lost or stolen items,undeliverable addresses or incorrect contact information for all shipments.
d) International customers are responsible for paying any applicable immigration taxes, taxes and any other fees that the local customs authorities deem appropriate. These fees are paid to your local carrier or government and will not be charged by CROWNWAY HAIR and therefore cannot be refunded.